Emberz Dispensary and Delivery
Emberz Dispensary and Delivery strive to provide the most friendly, genuine, and connoisseur-curated experience - all while still maintaining the most competitive value. We Light Up Your Day through our strategic customer & client relations, and product selection. We cater to every strain of cannabis consumer in both a relatable, and professional manner.
Emberz prioritizes tuning our knowledge to the ever-changing trends and needs of the consumer over all else. As a grass roots operation with no investors or "Chads" in sight, Emberz enjoys giving back to the community that contributes to our longevity and success here in the San Fernando Valley and Los Angeles. 
We keep our ear to the ground of the Industry to make sure we hear it first, and you smoke it first! 
Van Nuys Location
Name: Emberz Van Nuys
Address: 7756 Burnet Avenue, Van Nuys CA 91405
Phone number: 818-994-1045 (Dispensary) 310-935-0063 (Delivery) 
Email: [email protected]
Hours of Operation: 
Storefront: 
Saturday 8AM–10PM
Sunday 8AM–10PM
Monday 8AM–10PM
Hours might differ
Tuesday 8AM–10PM
Wednesday 8AM–10PM
Thursday 8AM–10PM
Friday 8AM–10PM
Delivery: 
Saturday 1PM–10PM
Sunday 1PM–10PM
Monday 1PM–10PM
Hours might differ
Tuesday 1PM–10PM
Wednesday 1PM–10PM
Thursday 1PM–10PM
Friday 1PM–10PM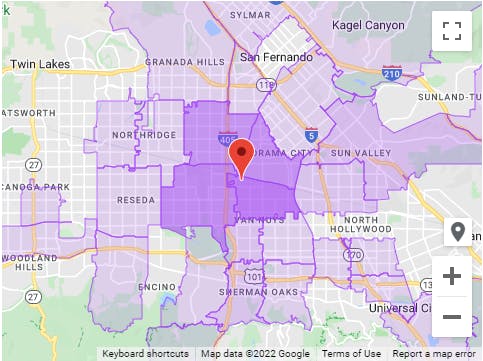 Pickup instructions:  "For curbside delivery, please place your order at www.emberzdelivery.com, and add "Curbside" in the notes section, along with your form of payment and Vehicle Make and Color.  Upon arrival please call or text (310-935-0063) and allow 3-5 minutes for your order to be brought out." 
Awarded
- Awarded Best of Weedmaps 2021.
- Serving the San Fernando Valley since 2006.
- The First So-Cal Dispensary to drop: Doja, The Fire Society, Don Merfos, Doctor Exotics, Permanent Holiday, L.A Dank and FlightPath